How to Order
Step 1: Add an Item To Your Cart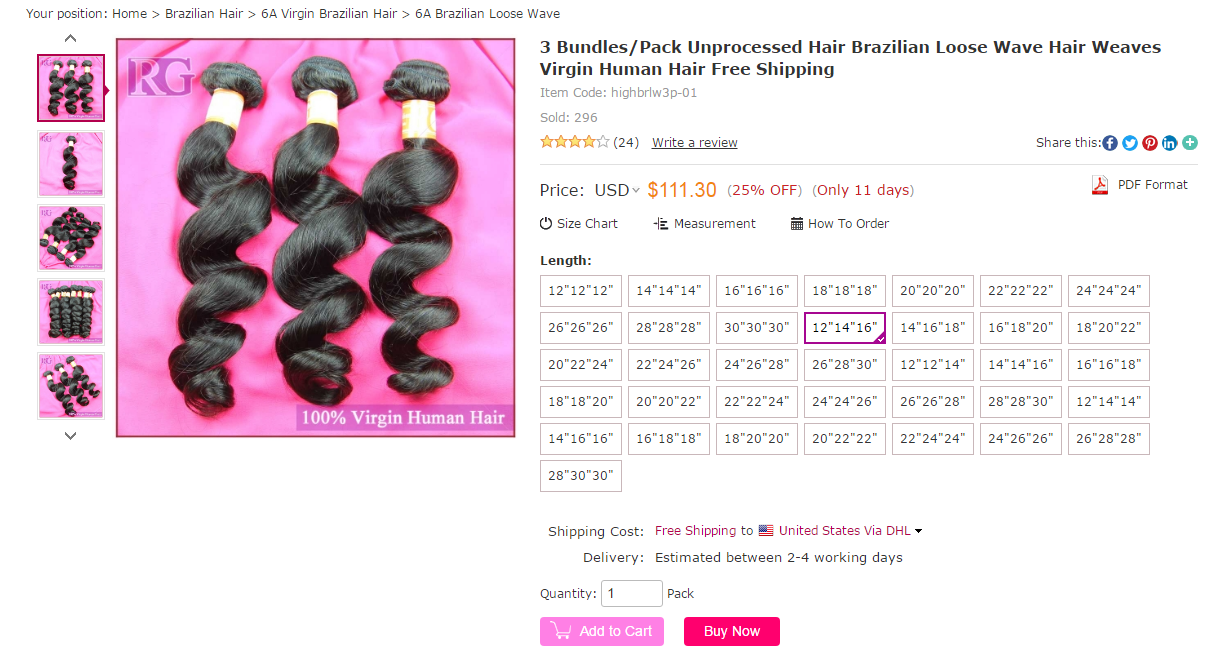 You will be able to select the lengths that you want to purchase, and enter how many pieces you want in the quantity box.
Access your Cart at any time by clicking the cart icon at the top right of the site. You are welcome to add multiple items to your Cart.
Step 2 : Add Order Details In Your Cart
In your Cart, you can review the cost of the item, or change the quantity you'd like to purchase. also you can remove item and continue Shopping.
If there's anything you need to tell the seller, you can do so in the
Remark...
field.
Click
Processed To Checkout
After You Confirm The items details In Your Cart.
Step 3 : Enter Your Shipping Address
Enter your correct shipping address where the hair should be delivered.
Please make sure you provide a
Valid Email and Phone number
so our Sale Representative can reach you.
Click Use This Shipping Address.
Step 4 : Choose Payment Method
Select PayPal as your payment method.
If your don't have a bank card, you may use the following methods.
Wester Union / Moneygram as your payment option at checkout.
Pay with Western Union Or Money Gram, You need to go to your nearby Branches.
Step 5: Enter Your Coupon Code ( optional )
The following are the steps to use the coupon.
Step 6 : Place Your Order
By Click
Place Your Order
, You Will Receive An Email of Your Order from info@rgvirginhair.com
Step 7 : Complete The Payment
Pay with PayPal account will prompt you to log in with your PayPal account details.
It won't waste time to register a Paypal account, try it now.
www.paypal.com
Please make your billing address same as your shipping address.
Add your debit / credit card to your Paypal, Paypal has secured your credit/debit card information. Now all you have to do is click Pay Now!
Click
Pay now
to complete your purchase. Please review Your Information to make sure that it is correct.
Note: You can purchase many different products from RG virgin hair all in one order.
Congratulations! You've just made a purchase. RG Virgin Hair send an email to you.

About Delivery:
Your order will be shipped out follows your shipping Method Opition DHL Express.
If you want to change to your favorite shippment method, please email us at info@rgvirginhair.com in time.
Shippment Method can't be changed if your order has been shipped out.
You can view your order information
My Account > My Order.
You must be signed in to your account to view your purchase history.